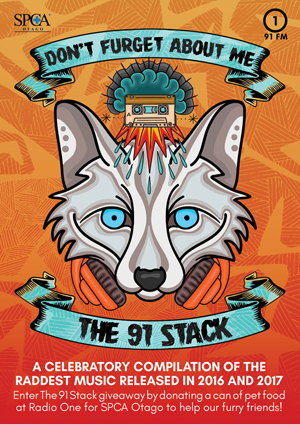 SAD:
This is your last week to enter the draw to win
The 91 Stack
!
GOOD:
It's not the last week that you can donate to the
Otago SPCA
.
Want to win over 140 albums, records, and cassettes of the best music released over the last two years? Simply drop off some pet food at Radio One, and you'll go in the draw. Remember, you can enter as many times as you'd like, with every donation netting you another entry! The winner will be announced on Monday morning.
---

Orientation 2018
is in full swing! Sure it's raining, but you've got to break a few eggs to make an omelette.
Join the festivities or be left alone, cold in your flat-
Chase & Status (DJ Set feat. Rage)! Feat. Home Brew, Aroha & Tali
Down the Rabbit Hole! Feat. Hot Dub Time Machine, Baynk, & Scarfé
Toga Party! Feat. SWEET MIX KIDS, Times x Two, & HOT donnas
Rugby! Feat. the Pulse Energy Highlanders vs The Blues
Outer Limits! Feat. Young Thug, Peking Duk, Sigrid, & MAALA
The International Food Festival!
For the full lineup and more details, head to
otagoori.co.nz
.
---

CHASE & STATUS [DJ SET]
Hailing from the motherland of drum & bass in the UK,
Chase & Status
are one of the most commercially successful drum 'n' bass and dubstep artists on the planet. This Thursday they're headlining your 2018 Orientation with support from NZ hip hop royalty
Home Brew
, and New Zealand's hottest DJ/MC combination -
DJ Aroha and MC Tali
.
Don't sleep,
get your tickets online
.
---

Once again we are super proud to be supporting one of the biggest cultural showcases in the Southern Hemisphere, the
Dunedin Fringe Festival
. This year the festival boasts over 100 events crammed into 11 action packed days and nights, and features cabaret, comedy, dance, music, performance art, physical theatre, storytelling, workshops, and more. Keep your eyes peeled to the stunning range of events in the festival programme online at
dunedinfringe.nz
, and make sure you get out and support your local creative community!
---

Next Week
:
Harraways Oat Singles Breakfast Feature Album:
Stef Animal
-
Top Gear
Drive Feature Album:
Car Seat Headrest
-
Twin Fantasy
---

The Radio One Top 11 with Ashley Heydon - Tuesday 23rd January 2018
1.
Bediquette
(Dn) -
In Circles
2.
Jaggers x Lines
(Dn) -
Shadows
3.
Coyote
(Dn) -
Catfish
4.
Mermaidens
(NZ) -
Sunstone (ONONO Remix)
5.
Earth Tongue
(NZ) -
Pentagram On The Moon
6.
Marlon Williams
(NZ) -
Nobody Gets What They Want Anymore ft. Aldous Harding
7.
Koizilla
(Dn) -
Haze
8.
indi
(NZ) -
Woman
9.
Kimbra
(NZ) -
Top of the World
10.
Estère
(NZ) -
Grandmother
11.
Hans Pucket
(NZ) -
Fuck My Life
Mazagran Hit Picks:
HEX
(NZ) -
Sight Beyond The Line
Kody Nielson
(NZ) -
Bic's Birthday
Vote on the next Top 11 and go in the draw for the February Prize Pack.
Go
HERE
to listen and vote, and to enter the drawing!
---

For the full Radio One 91FM programme, see http://r1.co.nz/programme
TUNE IN - 91FM Dunedin :: LIVE STREAM :: PAST SHOWS :: PODCASTS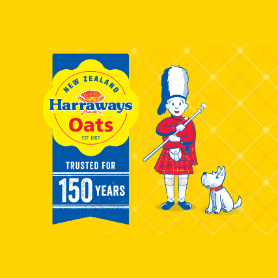 This week on the Radio One Harraways Oat Singles Breakfast Show with Jamie Green
Monday
:
8:20am: Orientation 2018 has begun - students are flocking back into the city and we LOVE it. The OUSA President, Caitlin Barlow-Groome, joined Jamie to share stories of her first Orientation and her plans for the year ahead. (podcast)
Tuesday
:
8:30am: Aroha & Tali are a powerhouse of talent and a formidable force with an act unlike anything you've heard before. Individually, they're two of New Zealand's most prolific and respected performers; Aroha brings the bass heavy house & techno selections with precision mixing; Tali rocks the mic, freestyling with soulful hooks and deadly MC flows. This week they play Dunedin as part of Orientation 2018 and before they hit the stage, they jump in the studio with Jamie. (podcast)
9:30am: Radio One's resident film buff, George Elliott, returns to the airways with another round of movie reviews to tell us what's worth seeing at the cinema this week. (podcast)
Wednesday
:
9:30am: Knock-off The Roots covers band Home Brew are heading south for Orientation 2018. After releasing their debut Home Brew Light EP in 2007 and their critically-acclaimed eponymous debut LP in 2012, Home Brew are back to pay off their debts to Baycorp at Forsyth Barr Stadium one more time. Tune in as Jamie talks to effervescent frontman Tom Scott.
Friday
:
8:30am: It's Friday so that means it's time to break down the week that was in the big wide world of politics with the Radio One Breakfast Show Politics Team.
---